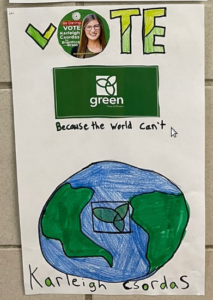 Omg my heart!!! I swear we need to vote for our FUTURE generations 🙌🏼 this is so worth it.
Thank you to the fifth grade class at Russell Reid for the amazing conversations this morning!! You all inspire me to do more and do better. We need a government that will show up!!
Yes that means Will Bouma again, has not attended 🤦🏼‍♀️ so unfortunate and disgraceful to have an incumbent to let down our students. It is very apparent he is not putting in the work for such a privileged position in government.